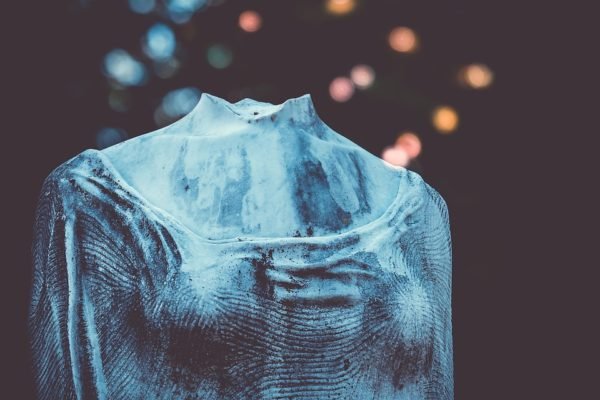 Bad Mothers
A Global Inclusive Interdisciplinary Conference
Sunday 14th March 2021 – Monday 15th March 2021
Lisbon, Portugal
---
Flux Capacity: A Study in Resistance and Surrender Over Time (Dance Performance)
Sarah Rose Mauney
University of Colorado, Boulder

Key Words:
Motherhood, Resistance, Self-Love, Guilt, Control, Surrender
The intention of this piece, titled "Flux Capacity", is to examine the extent to which a new mother is capable of and willing to change in response to the fluctuating circumstances of their life. I have drawn on my own life experience of surviving pregnancy, childbirth, and the first two years of motherhood and the immense resistance to change I felt in the face of these life events. This dance piece serves as the vehicle through which I examine my own ability to change in the face of great personal shift, my desire to maintain an illusion of control over my life while at the same time surrendering to the fact that I am simply a passenger of this existence. Ultimately, I seek to probe the question "Does my desire to maintain a sense of 'self' make me a bad mother?".
The piece utilizes the phrase work developed in studio with my daughter in three phases of change; One, without any physical hindrance, danced to its fullest, a representation of my pre-baby self; Two is with my partner standing on my hips and my back pinned to the floor but still attempting the phrase, resisting my partner's presence and may need to adapt to her; Three shifts to my surrendering to my partner's presence, and I adapt the phrase to move around her and with her weight. The phrase becomes something different, effortful but ultimately more manageable and still recognizable as the material from the beginning of the piece.
An informal showing of the piece can be seen at the following link: https://vimeo.com/349324718
---
Challenging the Myth of the Good-Bad Mother Dichotomy: Conceptualizing Homeless Unaccompanied Motherhood as a Site of Intersecting Injustices
Méabh Savage
Waterford Institute of Technology (WIT)
Key Words:
Homeless unaccompanied mothers, affective injustices, middle class moral motherhood, good and bad mother,
This study primarily examined the way three intersecting circles of nurturing (or lack of nurturing) within the affective sphere interact within the economic, political and cultural relations (Lynch 2007) in women's lives to produce affective injustices. The findings of the study enhance our understanding of how affective injustices are framed, and continue to frame, the lives and experiences of homeless unaccompanied mothers.
There were two phases of field work. Phase one involved in-depth interviews with seven homeless unaccompanied mothers, based around several key themes relating to their care and classed experiences across their lives. Phase two involved semi-structured interviews with twelve professional care workers, employed across five different homelessness services.
Women's narratives revealed how affective injustices are lived through the bodies of poor women as violence, abuse and neglect, and are performed through their bodies as mental illness, disability and substance misuse. The data also shows that affective injustices are produced across all three spheres of care relations, namely the primary, secondary and tertiary spheres (Lynch 2007). Affective formations are mediated and lived through deep social class-based injustices. Mothers' experiences of care relationships are positioned as central to the construction of their subjectivities. Their relational care identities as women and mothers are mediated by social class (Crean 2018).
Women's subjectivity and agency as evaluative and ethical subjects also emerge as a key concern in the study. Frequently labelled as 'bad mothers' in a social milieu of middle-class mothering and neo-liberal discourse of individualism, several aspects of women's agency challenge this dominant narrative. It shows that homeless women are moral mothers within the context of the affective relations and material resources available to them.
Moral evaluations of motherhood, constructed through cultural characteristics of good (caring) and bad (uncaring/unaccompanied) mothers are shown to mark the boundary between deserving and undeserving mothers. They obscure the voices and unjust classed, racialised and disablist experiences of the mothers themselves.
---
"Out of Bounds": Maternal Regret and the Reframing of Normative Motherhood
Andrea O'Reilly
York University, Toronto
Key Words:
maternal regret; bad mothers; bad mothering; normative motherhood;
Central to patriarchal motherhood is the belief that all women want to become mothers, that mothering comes naturally to women and that women experience mothering as fulfilling and gratifying: assumptions that I have termed essentialization, naturalization and idealization. In patriarchal motherhood it is assumed (and expected) that all women want to be mothers (essentialization), that maternal ability and motherlove are innate to all mothers (naturalization), and that all mothers find joy and purpose in motherhood (idealization). Over the last few years, these dictates of normative motherhood have been countered and challenged by the emergence of what has been termed "the last parenting taboo: maternal regret". From magazine articles, Marie Claire's "Inside the growing movement of women who wished they never had kids and Today's Parent's "Regretting Motherhood: What Have I Done with My Life?" to scholarly works such as Regretting Motherhood: A Study (Donath, 2017) and The Myth of Mothering Joy: Regretting Motherhood-Why I'd Rather Have Become a Father, (Fischer 2016) mothers, as noted by Anne Kingston in her recent feature article on maternal regret, "are challenging an explosive taboo and pushing the boundaries of accepted maternal response; and reframing motherhood in the process." Indeed, as author Lionel Shriver commented in reference to her acclaimed 2003 novel We Need to Talk about Kevin in which maternal regret is a central theme, "While we may have taken the lid of sex, it is still out of bounds to say that you do not like your own kids, that the sacrifices they have demanded of you are unbearable, or perish the thought, you wish you never had them." The proposed paper, borrowing from Shriver and Kingston's words will explore how the emergence of the "out of bounds' topic of maternal regret has given rise to a reframing of contemporary mothering to offer a formidable critique of, and corrective to normative motherhood.
---
"A Redundant Little Brat" Mother Character in Sunčana Škrinjarić's Novel Ulica Predaka (The Ancestor's Street)
Ana Batinić
Croatian Academy of Sciences and Arts
Same as in real life of every child, in children's and young adult literature the mother character takes an indispensable place. Young readers encounter literary mothers represented in many different ways, from the archetypal representation as a general idea existing in human minds through limiting stereotyped images that assume all mothers share identical or similar characteristics to alternative mother-figures. This paper will attempt to analyze the character of a mother depicted in the novel The Ancestors' Street published in 1980 by Sunčana Škrinjarić (1931 – 2004), one of the classics of Croatian children's and young adult literature. Although the critics are not in agreement regarding the classification of the novel: some consider it as a children's and/or young adult novel, some as a Bildungsroman and others as a fictionalized biography, the novel is suitable for both younger and older children as well as for adults. The narrator's voice belongs to a girl named Tajana and the events taking place at the time of World War II in Zagreb and Split in former Yugoslavia are narrated from a child's psychological viewpoint. The narrative technique relying on a "naive" child character is based on a stylized children's way of talking, which emphasizes the expressiveness of reality interpretation. The novel consists of a series of subtitled sequences constituting a homogeneous whole, but which can also be read as separate stories. The main topic is Tajana's growing up, but without didacticism, moral lessons or childhood idealizations. The archetypal mother can have two polarised roles – one is a kind, protective parent and the other is a harmful, abusive mother which can often be found in fairytales. In The Ancestors' Street Tajana's mother belongs to the second group. After becoming a mother, every woman faces two contradictory models of the realization of her "role": being a mother or being a woman. Although some women more or less successfully manage to find balance, most, whether they want it or not, find themselves on one or the other side of the scale, being more women than mothers (as is the case with Tajana's mother) or being more mothers than women. Tajana's mother is an educated, beautiful and coquettish woman who does not love her daughter. She sees the girl only as a "redundant little brat", a reminder of her broken first marriage and an obstacle to her life happiness. Hitting Tajana, pulling her hair and ignoring basically all her needs, she can be labeled as a bad mother who fails to fulfill the duties of her role as a mother: the duty of being present and protective, of providing for her well-being and upbringing. According to the mother type categorization by Caroline Eliacheff and Nathalie Heinich in their book Mères – filles. Une relation à trois (2002), Tajana's mother could be categorized as a combination of narcissistic and inconstant mother, incapable of providing those who are dependant on her with reactions predictable enough to serve as orientation, foothold and support. Thus, the relationship between Tajana and her mother can be studied from literary, but also psychological and sociological viewpoints.
---
"Good" Mom vs. "Bad" Mom: Discourses of Motherhood and the Policing of Young Mothers
Amber-Lee Varadi
York University
Key Words:
young motherhood; policing; age; inequality; discourse
Within a public consciousness informed by mythological beliefs in meritocracy, postracialism, and postfeminism, youth pregnancy continues to be socially recognized as a tragedy, a mistake, and a 'wrong' choice resulting from 'careless' behaviour, consequently influencing young mothers by shaping and constraining their actions and lifestyle choices (Baker, 2009; Cense & Ganzevoort, 2018; Kelly, 1998, 2000; Luttrell, 2003). While today's postfeminist and neoliberal ethos trivializes and denies the relevance of gender, class, and race, existing literature on young motherhood demonstrates how systems of inequality continue to influence and govern the lives of young mothers. Utilizing a Foucauldian and poststructural feminist lens, this research aims to uncover these inequalities by examining how, where, and why young mothers experience forms of policing. Through semi-structured, one-on-one interviews with 11 young mothers, this research illustrates how existing discourses of 'good' motherhood and neoliberal citizenship shape and contribute to young mothers' lack of resources. This research argues that negative discourses which frame young motherhood as 'bad' motherhood reproduce problematic knowledges about young mothers that limit the availability of the supports they need and lead to the establishment of surveillant forms of 'support' that maintain the ongoing positioning of young mothers as flawed, incapable, and in need of regulation. Participants conceptualized 'good' motherhood through two qualities – 'being there' and 'taking care of herself too.' This research shows how these qualities both reproduce and resist hegemonic discourses related to normative mothering within contemporary neoliberalism. Findings also reveal how both real and perceived instances of negative and positive judgement resulted in young mothers' policing and/or self-policing, influencing their behaviours, choices, and self-beliefs. Despite experiences of negative judgement rooted in discourses of youth, mothering, and young motherhood, the participants recognized their parenting as rewarding, consequently resisting the hegemonic narrative of young motherhood as a mistake.
---
Good Mothers, Bad Mothers: A Disney Phallocratic Tale
Sara Arroja-Schürmann
University of Geneva, Switzerland
Key Words:
Good, Evil, Motherhood, Disney, Tale, Reality, Phallocracy, Sexism
In this work, we will discuss the fundamental position of mothers in Disney's famous animated movies. Known for being among our childhood's "essentials", these films portray women (and mothers in particular) in a very reductive and sexist manner. Contrary to their male counterpart, mothers do not appear as fundamentally important in a child's education. Indeed, from distinctive absences to furtive and useless appearances, they do not seem to represent full characters filled with dignity and self-confidence. However, when mothers or "motherly" figures come into view, they are rather depicted as evil and sadistic creatures whose mere antagonistic existence revolves around the destruction of the poor protagonist (usually a defenseless and naïve young girl). From sexual freedom to independent stature or perverse obsessions, they do expose the luring evil that could destroy young girls' virtue. Let us recall the widely infamous figure of the "step-mother". Especially relevant in Cinderella, the legend became a real fear for generations. Instead of giving love and nurturing her as a "good mother"; she displayed unfair and mean gestures towards the child. In Snow White and the Seven Dwarves, Disney clearly exposes a deadly jealousy in the (step-)mother / daughter relationship that could have fatal consequences. The vain mother who wishes the death of her "filial" female rival. Female antagonists can also personify maternal profiles. For example, in The Little Mermaid, the villainess Ursula could stand for a maternal figure. Charming and seductive at first, she manages to trick Ariel into losing her voice (the main way of expression) in order to get the man (lure him with her physical attractive traits). Basing my work on the animated movies (primarily) and on sociological and psychological studies (secondary bibliography), I will attempt to demonstrate the strong manipulation of children's minds when it comes to mothers and their social representations.
---
Is Intensive Motherhood Worth It?
Miri Kestler-Peleg
School of Social Work, Ariel University, Israel
Key Words:
Intensive Motherhood, Transition to Motherhood, Child-Centrism, Breastfeeding Motivation, Maternal Distress, Maternal Well-Being, Sociability.
Intensive motherhood is the dominant tenet of motherhood in Western societies nowadays. It is based on the social belief that motherhood should be child-centered even at the expense of the mother's well-being. But, is it indeed the optimal motherhood? and what is the price for those adopting this social belief? Here, I will present findings from the examination of three different models, demonstrating the heavy cost entailed with the implementation of Intensive Motherhood.
Three research models were drawn from an Israeli longitudinal quantitative study regarding women in their transitioning to motherhood, including four waves of measuring: T1: End of pregnancy (n=601), T2: Eight weeks postpartum (n=472), T3: Five months postpartum (n=375), and T4: Five years postpartum (n=323).
Study 1 (T1-T3) examined the association between breastfeeding motivation and the well-being of nursing women. Currently, breastfeeding is perceived as a symbol of maternal dedication and a criterion for good mothering. Thus, breastfeeding represents the essence of Intensive Mothering and breastfeeding motivation reflects internalizing these social expectations. The findings showed that breastfeeding was positively associated with negative effect, postpartum depression and anxious attachment, eight weeks and five months postpartum.
Study 2 (T4) examined personality aspects that predict child-centrism, the central component of Intensive Mothering. Child-centrism was found to be predicted by maternal anxiety and defensiveness.
Study 3 (T4) examined maternal factors that predict child's sociability. An inverse association was found between maternal child-centrism and child's sociability.
Intensive Mothering, which is embodied in breastfeeding motivated by increasing maternal self-perception, and child-centrism, were found to be related to distress, among mothers as well as children, who are its beneficiaries. Therefore, it is our duty to act on behalf of seemingly functional but covertly distressed mothers by policy-practice, family and individual interventions.
---
Uncomfortable Maternal Love for a Disabled Child: an Exploration of Maternal Ambivalence
Clare Harvey
University of the Witwatersrand
Johannesburg, South Africa
Key Words:
Disability; disabled child; maternal ambivalence; maternal subjectivity; mothers; psychoanalysis
There has been only limited psychoanalytic research on the maternal experience of raising a child with a disability, and in particular, a visible physical disability. The embodied and social experience of disability, motherhood, and subjectivity is brought into sharp focus by the visibleness of physical disability. Disability can produce an experience of unfamiliarity for non-disabled people. Nine women raising physically disabled children were interviewed, using a method informed by psychoanalytic theory and practice, so as to access the subjective experiences of mothers of children with a visible physical disability. Attention was paid not only to everyday aspects of maternal experience, but also to those aspects that are more forbidden, more difficult to articulate and sometimes painful to explore. Arguably the gaze of others provokes a particular maternal response, since others experience disabled children as unfamiliar. The paper considers the emotional discomfort around disability which the mothers are confronted with internally, as well as other people's responses to their children. Accordingly maternal ambivalence is amplified. Maternal attempts to manage this complex terrain so as to maintain love for their children are explored. The mothers' continuing processes of psychic development vacillate between integration and being unravelled as they sit on the boundary of their own sense of unfamiliarity. Implications for understandings of childhood disability and maternity, are examined.
---
Making the Darkness Conscious: Facing the Bad Mother on the Page
Rachel Newsome
The University Of Salford,
Manchester, United Kingdom
Key Words:
Mother-wound, un-mothered, creative writing, trauma, recovery, Jung, shadow work
How can the daughters of bad mothers represent associated childhood trauma and complex PTSD on the page? What are the ways in which creative writing might operate as a form of recovery and restoration for the un-mothered self, while producing outputs that offer valuable insights for readers? As a PhD candidate in Creative Writing, I am researching-through-practice writing the mother wound, building on a rich and ever evolving lineage of mother-daughter literature via a series of autobiographical short stories, in order to process and "work through" trauma (Van Der Weil 2014). Informed by my experience of Jungian analysis, each story is intended to operate as a form of Jungian shadow work – exploring both my bad mother's rage and that of my un-mothered self on the page, with a view to making the darkness conscious. Employing archetypes, dream material and symbolic metaphorization, these stories traverse boundaries between inner and outer worlds (Woodman 1997) in order to provide imaginative pathways to reconciliation with the bad mother – and the multifarious ways she might manifest herself – for both myself and others.
---
What is Incomprehensible": The Myth of Maternal Omniscience and the Judgment of Maternal Culpability in Sue Klebold's A Mother's Reckoning and Monique Lépine's Aftermath.
Andrea O'Reilly
York University, Toronto
Key Words:
Bad mothers; motherhood memoirs; school shootings; mothers and sons;
The paper examines the memoirs of two mothers whose sons, Dylan Klebold and Marc Lépine, committed two of the most infamous school shootings in North America and then died by suicide: Columbine in the United States (1999) and the Montreal Massacre in Canada (1989). The Columbine High School massacre was a school shooting that occurred on April 20, 1999, at Columbine High School in Columbine. Dylan Klebold and his friend Eric Harris killed thirteen people and injured many more. The both later died by suicide. The École Polytechnique massacre, also known as the Montreal massacre, was a mass shooting at the École Polytechnique in Montreal, Quebec, Canada that occurred on December 6, 1989. Twenty-five year old Marc Lepine began his attack by separating the male students from the female students and after calling the women a "bunch of feminists" proceeded to kill fourteen women and injured another ten women and four men. He then died by suicide. His suicide note blamed feminists for the failure of his life. The memoirs by Sue Klebod—A Mother's Reckoning: Living in the Aftermath of Tragedy (2016)— and by Monique Lépine—Aftermath: The Mother of Marc Lépine Tells the Story of Her Life Before and After the Montreal Massacre (2008)—narrate what Klebold terms "coming to terms with the impossible" and Lépine describes as "her descent into nightmare," as each mother seeks to understand what caused her son to commit the massacre and die by suicide. The paper explores each mother's journey toward understanding her son's crime and death through denial, despair, anger, grief, shame, and, eventually, healing. In this paper I examine the normative discourse of good motherhood and how it informs and shapes each mother's attempt to explain and comprehend how her son, in Lépine's words, "turned into a heartless murderer" (22). In particular, I address two salient beliefs of normative motherhood: first, good mothers raise good children and bad mothers raise bad children; and second, good mothers, as involved parents, should and must know their children. Klebold and Lépine in their poignant rendering and remembering of mothering deliver a potent critique and corrective to these conjectures of normative motherhood. The first section of the paper on A Mother's Reckoning examines the myth of maternal omniscience while the second section on Aftermath considers the judgement of maternal culpability. What readers learn in these memoirs of loss is that children may be unknowable and that mothers are not responsible for the actions of their children. In so doing, the memoirs astutely disrupt, dispute, and discredit mother blame as they are enacted in the myth of maternal omniscience as well as in the judgment of maternal culpability.
---
Film Noir and Femme Fatales: The Evil Stepmother in Popular Culture
Leslie Lindenaer
Western Connecticut State University
Danbury, Connecticut, USA
Key Words:
Evil Stepmother, non-biological, film noir, archtype, femmes fatales.
The evil stepmother is an underappreciated site of social and cultural contest. Among scholars she is often dismissed as mere fairytale. This presentation argues, however, that the stepmother both reflected and shaped popular ideology about gender roles and the definition of ideal motherhood. The archetypal evil stepmother, who operated beyond the bounds of normative gendered behavior, emerged during periods of economic, social, and cultural tensions over the roles of women. This multi-media presentation examines the stepmother in an American and European context, focused on twentieth-century popular representations of the non-biological mother as inherently bad. The evil stepmother was prevalent in media directed at male or mixed-gender audiences – pulp fiction and film (noir and otherwise). Juxtaposed with the biological mother, the wicked stepmother was clearly intent on assuming the role for all the wrong reasons. She was neither interested in nor psychologically capable of nurturing children. She was a threat – often violent — to the family. Women in popular culture who demonstrated, sexual aggressiveness, ambition, and greed — femmes fatales in their relationship to men — were stepmothers more often than simple coincidence would allow.
In an era that gave birth to popular psychology, the stepmother was no match for her own psyche. Laminated with centuries of folk and fairy tale characterizations, the she seemed ideally suited to embody the evil pathologies that put her in direct competition with her stepchildren, most especially stepdaughters. Hard where mothers were soft, red-taloned nails on fingers that in a biological mother would have been designed to caress her child, the stepmother was, visually and behaviorally, quite the opposite. These stepmother tropes matter, not just because of what they tell us about the gender and motherhood in the past, but because they resonate in representations of the ideal woman, sexuality, and motherhood today.
---
Murderous Mother: a Kristevan Reading of Adora Crellin (Sharp Objects 2018) as Bad Mother
Marnell Kirsten
Red & Yellow Creative School of Business
Joanna Glanville
Red & Yellow Creative School of Business
Key Words:
Kristeva, abject, motherhood, dualism, representation of a bad mother, visual studies, resisting 'femininity', semiotic chora, castrating female
In Julia Kristeva's Powers of Horror (1982), she describes the "two-faced" mother as "ideal, artistically inclined, dedicated to beauty … on the one hand, the focus of the artist's gaze who admits he has taken her as a model" (1982: 157), but also as a figure "tied to suffering, illness, sacrifice … This kind of motherhood, the masochistic mother who never stops working is repulsive and fascinating, abject" (1982: 158). Sharp Objects' dominant mother figure, Adora Crellin, appears signified solely in Kristeva's first location of 'the mother'. Set in an atmosphere of utter domestication, Adora, always immaculately dressed and well-groomed, is ostensibly 'ideal' and dedicated to upholding beauty and aesthetic appearances in the spaces she inhabits and the female body she exists in. This facade of motherhood, and its ties to womanhood, splinters when considering the relationship Adora has/had with her three daughters, and Crellin is revealed to the viewer as "repulsive and fascinating, abject" (Kristeva 1982: 158), a manifestation of the Kristevaen notion that "the mother gives us life, but without infinity" (1982: 159). This duality in the representation of Crellin's character is however not a limited definition of her as 'bad mother'. This paper proposes to flesh out a Kristevan understanding of Adora as a mother who gives finite life both to her daughters and her own endurances of motherhood.
---
Mothers, Murder and Child Custody
Theresa Porter
State of Connecticut-DMHAS
When Elaine Campione divorced her husband, he did not initially ask for custody. However, once the divorce was settled and he was moving on with his life, he filed for custody of their two daughters, 3 years and 19 months. He even asked the court to give the children their own lawyer to work solely for the children's best interest. Elaine Campione, according to her own mother, was not concerned with what was in the best interests of the children or in taking care of them. What she was interested in was making her ex-husband suffer. During the couple's acrimonious custody battle, Elaine Campione drowned her two daughters, videotaping herself and the children beforehand and afterwards, addressing her ex-husband throughout "Leo, there, are you happy? …The idea that you could actually have my children… Now you can look at the caskets and talk to them that way…There is no way I could have them with you."
Cases such as Campione's highlight the phenomenon of mothers who commit filicide during custody disputes. What would drive a woman to murder her own offspring rather than allow them to be separated from her? In some cases, it appears a mother views her child as an object that is disposable, dispensed with when he or she no longer serves the mother's needs. An alternative view is that the child is seen as a narcissistic extension of a mother who cannot conceive of the child existing without her, or that the child becomes a weapon by which revenge is delivered. In order to understand the actions of mothers who kill their own children during custody cases, it is necessary to examine the psychology of each type of mother in order to prevent this particular form of filicide.